Employers suffer under Australian employment law. The law favours the Employee. The only way to fight back is with an Employment Contract online. We are a law firm. You are building your Employment Contract online on a law firm's website. We are the only Australian law firm providing legal documents online. Protect yourself.
Stop an ex-Employee working in his trade or profession?
The government does not want to stop your ex-Employees from working in their chosen trade or profession. Irrespective of what you put in your Employment Contract:
a financial planner can continue to be a financial planner: see Entello v Firooztash [2016] QDC 50
an accountant can continue to work as an accountant, do tax returns and audits
an electrician can continue to be an electrician
Stop an ex-Employee stealing your clients using an Employment Contract
You cannot stop the ex-Employee from working in his field of expertise. But stealing your clients, suppliers and confidential systems is a different story. In our Employment Contract, you can stop your ex-Employee from stealing your goodwill. This is the same as stopping them from stealing your office furniture or tools.
However, the non-solicitation restraint has to be reasonable. This to both:
time (after they leave you); and
the area, such as '100 kilometers' from where they worked.
Does the Legal Consolidated Employment Contract automatically put in the restraint clauses?
Yes. All Legal Consolidated Employment Contracts contain the restraint clauses.
Have a look at our Sample Employment Contract on how we deal with this issue of both 'time' and 'area'. We put it in 'stages'. If the court believes the 'time' restraint is too long, then the court enforces a shorter period. If you did not put in these 'stages' then the court may not enforce any 'time'.
In Entello v Firooztash, the Employer had to go to court. This was to enforce a six-month non-solicitation restraint. This is because the Employment Contract fails to contain the 6-month restraint. Ours does.
Can the ex-Employee 'solicit' your clients?
The Court has broadened the concept of 'solicit' in favour of the Employer. Our Employment Contracts adopt this better definition.
The Court states that 'solicit' means 'to ask for business'. That is not new. What about if your ex-Employee does not telephone or email your clients? In other words, the ex-Employee does not expressly ask the client to come and join their new business. The ex-Employee may not have approached the client at all – it may be the client approaching your ex-Employee.
The ex-Employee is still 'soliciting' that is 'asking for business' if he gives the impression of wanting the client. It is soliciting if there is any encouragement. This is a new law and highly beneficial to you, the Employer. This is provided that you have an up-to-date Employment Contract built by Legal Consolidated.
Are the "confidentiality" and "restraints of trade" clauses in an Employment Contract different in a Shareholders Agreement?
Many Legal Consolidated agreements have confidential requirements and rules to restrain someone from taking your intellectual property, clients and staff.
These include Employment Agreements, Independent Contractor Agreements, Partnership Agreements, Unitholders Agreements, Company Constitutions, Shareholder Agreements and Unit Trust deeds.
Such agreements operate under different laws. So the clauses are all different. For example, the laws in Australia are very protective of Employees. Therefore, the Employment Contract is drafted to accommodate all State and Federal laws.
Example of an Australian 'solicitation' clause for the Employment Contract
the ex-Employee approaches your client
the clients ask, 'how can I move to your new business?'
the ex-Employee answers 'you need a letter of appointment. I can't give you one, but all you need to do is write and sign one'
Legal non-competition clause in an Employment Contract:
prevents the ex-Employee from unfairly competing with you after termination
protects your trade secrets, customer and client details, suppliers and your systems
stop the ex-Employee from stealing your employees
forces the ex-Employee to leave on the spot and not work during garden leave
Do Legal Consolidated's Employment Contracts go out of date?
Yes, over time Employment Contracts often go out of date. They are therefore useless. However, Legal Consolidated Employment Contracts are subservient to mandatory employment laws. This stops your Employment Contract from going out of date.
Legal Consolidated Employment Contracts are subservient to mandatory employment law.
When the laws change, the Employment Contract is 'read down' so as not to offend the new mandatory law.
When Awards, Modern Awards or rules change the Employment Contract is read down to comply with the new mandatory obligations.
How do a company car and FBT appear in the Employment Contact?
From time to time you and your Employee may wish to change the terms of the Employment Contract.
An advantage of a Legal Consolidated Employment Contact is that you can do so with an exchange of emails.
So for a car and Fringe Benefits Tax (FBT) for an employee, get the wording from your accountant and put that information in an email to your Employee.
An employee queries sick leave entitlements in your employment contract.
Q: The Legal Consolidated Employment Contract states:
'Subject to any applicable legislation, your entitlement to sick leave is not carried over from the year in which the entitlement arose to the next year. The entitlement expires on each anniversary of your employment with us.'
Fair Work says sick leave accumulates and rolls over every year. Just confirming, whilst Fair Work says it does accumulate, it does?
A: The short answer to sick leave is yes.
The long answer is:
Your employee may currently be under Fair Work legislation. That may change throughout the life of the Employment Contract. If it does change our Employment Contract automatically updates.
Similarly, your Employee may currently be under Commonwealth legislation. This is rather than State legislation. But this may change in the future through no fault of you or your Employer. If it does your Employment Contract automatically updates.
Similarly, currently, you are correct, under Fair Work legislation, sick leave is carried over. But that may change in the future. In which case the Employment Contract automatically updates. For example, if the rules, legislation or Modern Awards change to say that sick leave does not need to be carried over then you, as the Employer, are protected.
The Legal Consolidated Employment Contract:
protects the Employer to the highest extent possible;
but be subservient to mandatory laws (such as Fair Work requiring the carry-over of sick leave);
automatically incorporate Work Place policies that you can change from time to time
Amend Employment Contract with an exchange of emails?
Yes. You and your Employee may wish to alter the Legal Consolidated Employment Contract. You can alter the Employment Contract by an exchange of emails.
Email is the primary means of communication from employer to employee. With the ever-increasing use of emails comes the reality that more and more employment matters are negotiated through email.
For an Employment Contract, you need:
offer
acceptance
mutual obligation or other valuable consideration (you give me your time, I give you money)
competency and capacity
Gone are the days when it takes a hard copy of a contract signed in ink with a pen to be the only way or amend an employment contract.
But you can only do this if the Employment Contract expressly allows a change to the contact via an exchange of emails.
Legal Consolidated expressly allows you to update the Employment Contract by an exchange of emails. (If you do not have a Legal Consolidated Employment Contract then check with the law firm that prepared your Employment Contracts.)
Change the Employment Contract without Employee permission?
We put in a unique set of powers. This allows the Employer to change the terms of the Employment Contract without getting your Employee's permission. This is via procedure manuals and policies. We are putting control back into your hands.
Can an Employer force the Employee to sign a new Employment Contract?
An Employment Contract is a two-way agreement. Both parties must agree. To change the Employment Contract both parties must freely agree. (This is why building a Legal Consolidated Employment Contract is important. It allows you to update procedures without going back to all the Employees.)
But what about changes to the Employment Contract for a specific employee? To update the Employment Contract you just build a new Employment Contract. But this has to be freely agreed to by both you and your employee. What if the old Employee does not want to sign the new Employment Contract?
Just because you want to update the Employment Contract does not mean your Employee has to accept the change. They are entitled to say "no" to a proposed replacement Employment Contract.
Do I need an Employment Contract for short-term casuals?
Casual employees have as many rights as every other Australian employee. The general rule is that the Employment Contract protects you from all employees. A casual employment agreement sets out rules such as confidentiality, policies, intellectual property, the rate of pay and termination notice.
You get disputes whether the employee is casual or otherwise. An Employment Contract reduces disputes. It also helps if you are attacked for underpayment where the casual argues they are permanent.
What if my casual becomes permanent?
Your employees carry out different jobs. They may move from full-time permanent to part-time and casual. Your employee may start as casual. But later they get into regular hours of work. This is despite their casual employment.
WorkPac v Rossato is about a casual employee. The Federal Court of Australia stated that just calling your employee a "casual" does not automatically make them a casual employee.
A casual employee has work that is inconsistent, irregular or short-term. Casual employees whose work doesn't fit that description can now claim that they are or have been permanent employees. They then claim additional entitlements. Paying casual loading to avoid or set off a liability to pay entitlements is not enough to escape. You need a legally prepared Employment Contract that complies with the law.
What if my long-term casual wants to remain casual?
An employee can remain casual. However, the Employee needs to understand that by accepting the casual loading, they give up a retrospective claim for permanent employment entitlements. You need an Employment Contract prepared by Legal Consolidated Barristers and Solicitors.
My Employee is working part-time how do I nominate the hours and days of work?
Q: I have my first 0.5FTE (full-time equivalent) starting part-time. I know that I am obliged to nominate the days and hours that the employee works (for public holidays, sick leave etc.).
A: The benefit of a Legal Consolidated Employment Contract is that it is updated by an exchange of emails. Therefore, when you email the Employment Contract to the employee you, at that time, state what days and hours they are to work. And as that changes over the years you change them by another exchange of emails. You do not document the days and hours in the Employment Contract. You do not set it in stone. Rather you let the employee know by an exchange of emails.
A good time to update your Employment Contract is when there is a voluntary pay rise
For whatever reason:
you may have forgotten to put in place a written Employment Contract
the Employment Contract may not be a Legal Consolidated Employment Contract (and therefore out of date)
Your current employee may be happy with no written employment contract. After all Employment Contracts only help you, the employer. Why should the employee weaken his position?
Similarly, the more out-of-date the Employment Contract the better for the Employee.
A good time to present the old Employee with a new Legal Consolidated Employment Contract is when you agree to an increase in the Employee's salary. Before the pay rise can take place the Employment Contract needs to be signed. A condition of the pay rise is that the Employer and Employee can agree on a new Employment Contract.
When do I need a new Employment Contract?
Fundamental terms are the foundation of an Employment Contract. Any change to them results in the formation of a new contract. The fundamental terms of an employment contract include:
Remuneration (pay)
Term of employment i.e. start and end date
Position
Hours of work
Confidentiality and ownership of the intellectual property created by the Employee
If any of those take place then it is a good idea to build a Legal Consolidated Employment Contract.
"All parties agree that for any breach of confidentiality, damages alone are an inadequate remedy. All parties consent to the Employer obtaining injunctions and specific performance."
Q: This clause appears in the Legal Consolidated Employment Contract. What damages or remedy can I seek?
A: This clause should be in every Australian Employment Contract.  This clause should also be confidentiality agreements and non-compete agreements.
Sometimes the Employee leaks a secret. It leads to no damage to the Employer. But it causes a huge reputation risk. Damages are not enough. An injunction stops the Employee from talking about the secret information. 
What if monetary damages are not a sufficient remedy for an Employee's breach? The Employer is entitled to equitable relief. This includes an injunction and specific performance. These are additional remedies for the Employee's breach.
In other words, if the Employee breaches the confidentiality obligations, the Employer is entitled to an injunction.
When deciding whether to grant an injunction, the court considers various factors. These include whether an injunction is necessary. If the breach can be adequately compensated with a financial award, the court might decide that an injunction is not necessary. Clauses such as those above record the parties' agreement that an injunction is an appropriate remedy.
Our Employment Contract fully utilises the benefits of the five major court cases:
Trust and confidence Commonwealth Bank of Australia v Barker [2014] HCA 32
Ready and willing to work Australian National Airlines Commission v Robinson [1975] HCA 33; 132 CLR
Obey implied terms of employment Concut v Worrell [1975] HCA 64; 75 ALJR 312
Stop perpetual sick leave Re Long Service Leave (Coal Miners) Award (1962)
Repudiation of the Employment contract Dover-Ray v Real Insurance [2010] FWAFB 2670
A government has a multitude of employment rules and awards designed for one purpose – to protect the Employee. Fight back with a Legal Consolidated Employment Contract.
Can an Employment Contract have no Probation period?
Legal Consolidated Employment Contracts are unique in Australia. This is because the Employment Contact is drafted so that you can remove the Probation period.
If you do not want a Probation period then type in 0.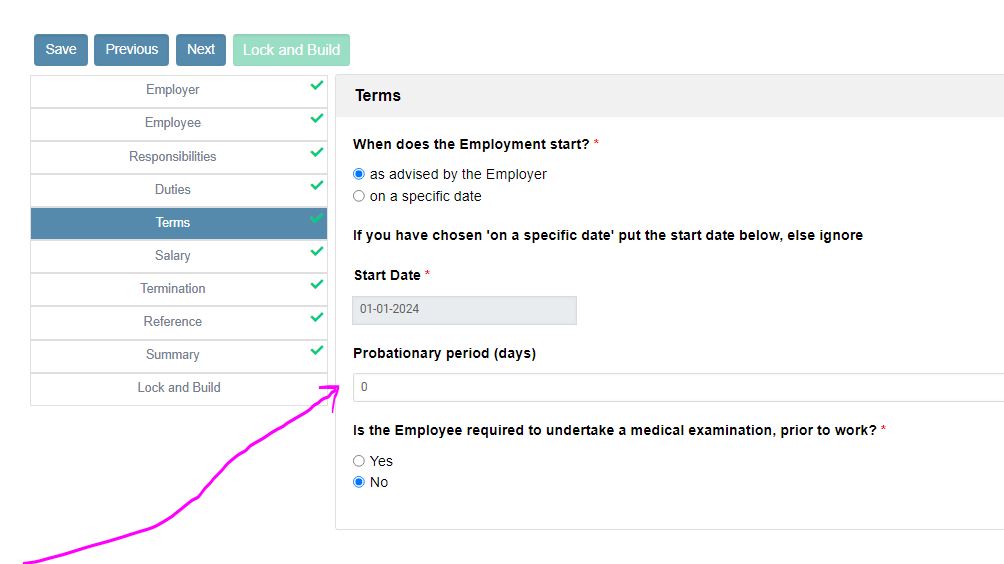 See also:
Business Structures for Personal Services Income, tax and asset protection
Family trust v Everett's assignments
Unit trust vs Everett's assignments
Corporate structures and Everett's assignments