How do Unitholder Agreements work?
A Unitholders Agreement is an agreement. It is between the unitholders and the Unit Trust trustee. It overrides a Unit Trust Deed. It sets out how the unit trust is managed. It deals with issues not contained in a Unit Trust Deed.
A Unitholders Agreement is similar to a  Shareholders Agreement.
Unitholders' Agreements manage the behaviour of unitholders in a unit trust.
Unitholders' Agreements are cost-effective. They allow: 
future changes via an exchange of emails and minutes
alternative dispute resolution if the Unitholders disagree
the issuing, valuation, and transfer of units in a unit trust
unitholder insurance – trauma, TPD, life, and income protection
Unitholder agreements outline each unitholder's rights and obligations to one another.
What if the Unitholders fight?
What if there is conflict? Dispute resolution clauses manage conflict. This is outside the court system. The Unitholders reach a cost-effective solution. As the rights and behaviour of unitholders are managed by the Unit Holders Agreement, the opportunity for conflict is reduced.
Unit Holders' Agreements are supplemental to unit trust deeds. Build both, Unit Trust Deeds and Unit Holders' Agreements on our website.
See the full free sample of an Australian Unit Holders Agreement
As with all Legal Consolidated documents you can see a full copy and covering letter of the Unitholders Agreement document. Just press the "Sample" button above.
A Unit Holders Agreement stops fighting
"Bob co-owns a $500,000 boat with two of his closest business partners – Ben and Jerry. He is unrelated to his partners and only engages them in joint business ventures. Bob, Ben, and Jerry come to an arrangement. The boat is managed through a Unit Trust. Everyone contributed different amounts and the market value of the boat is forever fluctuating. All three partners are made Unitholders to the Trust. Bob does not seek any legal or financial advice. A Unitholders Agreement is never signed between the three business partners.
One day, a dispute arose as to the valuation of units Bob and his partners own through the Unit Trust. The unit trust does not contain procedures for valuing units, nor dispute resolution clauses. Because Bob and his business partners did not seek advice nor sign a Unitholders Agreement, their only solution is pursuing time-consuming and costly litigation."
The Unitholders Agreement saves unitholders, such as Bob, from the headache of litigating disputes.
Can I get a Unitholders Agreement 20 years after we started the Unit Trust?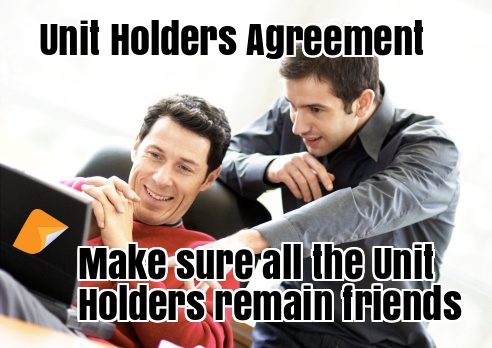 Yes. You build and sign a Unitholder Agreement many years after you started your Unit Trust.
How do I update the Unitholders Agreement?
Over the life of the Unit Trust, the Unitholders will likely want to change or amend the rights between them. The Unitholder Agreement expressly allows you to make changes, merely by:
an exchange of emails
Minutes
This is provided the Unitholders unanimously agree.
Why can't I put more information into the Unitholders Agreement?
We have been providing Unitholder Agreements since 1988. We put into the Unitholders Agreement what is required. You amend the Unitholders Agreement, from time to time, by an exchange of emails or minutes. You may have more items that you want dealt with. For example:
I am lending money to the Unit Trust. I want that in the Unitholders Agreement
Loan Agreements do not belong in Unitholders Agreements. Instead, build this Loan Agreement. It allows for security such as mortgages, caveats, and PPSR. It also allows for guarantors.
One of the Unitholders' children will be working in the business
Do not put employment contracts in a Unitholders Agreement. Instead, build a standalone Employment Contract.
My other business is providing services to the Unit Trust
Do not put contractual relationships with related parties into the Unitholders Agreement. Instead, build a standalone Independent Contractor Agreement.
My Unit Trust is providing services to a related business how do I put that into the Unitholders Agreement? The Unit Trust is a 'service trust'.
Do not put service trusts and service trust agreements into a Unit Holders agreement. Instead, build a separate service trust agreement:
Can I amend the Unitholder Agreement via minutes or an exchange of email?
Q; There is no area where any request is made for information for particular matters agreed between the parties. Do we simply amend the deed by minutes?
A: That is correct. Throughout the life of the Unit Trust, the Unitholders Agreement is amended by minutes. Or it is amended by an exchange of emails.
Does a Unitholders Agreement deal with investments?
No, they do not.
Unitholders debating on what the Unit Trust will do and invest in is not a matter of the Unit Trust deed or a Unitholders Agreement. This is much like a company and shareholders agreement. When shareholders debate how to run the business, they don't usually update the company Constitution or the Shareholder's Agreement.
But again, as said above, once you build the Unitholders Agreement, you can agree on investments by an exchange of emails or minutes.
Update the Unit Trust Deed, as well.
Family Trust deeds and Self-Managed Superannuation fund deeds need updating every 5 – 8 years. This is to deal with tax and trust matters. However, Unit Trust Deeds don't usually need updating. But of course, you can update a Unit Trust, as often as you wish, if all the unitholders agree.
Must a Unit Holders Agreement be signed as a Deed?
In El-Cheikh v Miraki [2021] NSWCA 271 a unitholders agreement is signed by all parties.  
But the document is signed as an 'agreement'. It was not signed as a 'deed'. The Unit Trust is riddled with faults and a Unit Holders Agreement can help fix those faults. However because the document is signed as an agreement, there is no protection of estoppel by deed.
The court noted that the unitholders agreement is an "ill-fitting adaption of a precedent intended to do something else, probably a shareholders' agreement". For example the document:
had a heading for certain clauses of "management of the company" when there was no definition of "company";
set out a definition of the individual as the trustee, despite the balance of the document contemplating a corporate trustee; and
was lodged for stamping at the Office of State Revenue, despite it not being liable for duty (unlike the trust deed).
Mum and Dad trying to build their documents is fraught with danger.
Deed of Accession – for any new Unitholders vs Unit Holder Agreement
Our Unitholders Agreement includes a Deed of Accession. When Unitholders become a party to a unit trust, they are not bound by the provisions of the pre-existing Unitholders' Agreement.
But by signing the Deed of Accession, the new unitholders are bound to the Unitholders Agreement, as if the new unitholder was party to it
The Deed of Accession, provided as part of our Unitholders Agreement, enables a speedy and simple binding of new unitholders to the Agreement.
Unit Holders Agreement
Business Succession Plan
Key person insurance
Shareholders Agreement
Unit Holders Agreement vs Shareholder Agreement
A Unitholders Agreement is a contract between the unitholders. It overrides a Trust Deed. It states how the Unit Trust is managed and how the Unitholders behave amongst themselves. (It is similar to a  Shareholders Agreement.)
You need separate agreements for each of these:
A Business Succession Plan is an agreement to get rid of the disabled or dead owner with some money. The outgoing owner gets some money and the remaining owners get his interest in the business. A BSP does nothing to help the business itself. The business may well fold after the person leaves, but at least his wife gets some money and the remaining owners get the business. A BSP is funded with life, TPD, and trauma insurance. My doctoral thesis was on this topic.
A key person insurance agreement is insurance paid to the business if a key person is disabled or dies. This does not deal with how to get the shares off the outgoing owner. Key person insurance just helps the business. Key person insurance is usually to repay debt (often secured by the outgoing owners' home) or cover the cost of training a new person.
Shareholders Agreement – a company has a Shareholders Agreement. While a Unit Trust has a Unit Holders Agreement. They do similar jobs but for different entities.
Our Unit Holders Agreement utilises the latest tax rules
Business Structures v Unitholders Agreements
Family trust
Unit trust
Corporate structures