Spouse to Spouse Loan Agreement
Doctors, Accountants and business owners are high-risk of bankruptcy. They are always at risk of being sued and losing everything. In contrast, the stay at home parent, teacher or government employee is low risk. It makes sense to have the family assets in your Low-Risk spouse's name. A Spouse Loan Agreement protects your family.
Husband wants some money from Wife
Putting all the family assets into the low-risk spouse is common. This is called the 'Man of straw and women of substance' asset protection strategy. All assets go into your wife's name. This better protects the family if dad goes bankrupt. What happens if a wife gifts money to the husband? Well, don't. That is silly. Instead, a wife lends the husband the money. This is via a legally enforceable Loan Agreement.
What if your husband goes bankrupt? You seek to get back the loan using the Loan Agreement. You at least get some of the money. Also, you can influence, as a creditor, whether your husband goes bankrupt or enters into a compromise.
Can I just do a Loan Agreement on the back of an envelope?
In the movies, IOUs are often handwritten on a piece of paper. Sometimes instead of a Loan Agreement, someone does a 'minute'. Both approaches fail. In Rowntree v FCT [2018] FCA 182 shows the additional care required to document even simple related-party transactions, such as loans. In this case, the taxpayer, a practising NSW lawyer, claimed he borrowed over $4m from his group of private companies. The Court said:
'Mr Rowntree has not deliberately chosen to ignore the law. His evidence presented to the Tribunal suggests that he genuinely believed that there were arguments to support his view that a loan was in existence.
He failed. Only a legally prepared Loan Agreement satisfies the ATO, Bankruptcy Courts and Family Court.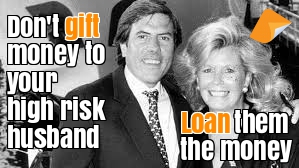 What do you get?
Press 'Start Building' button above to get our:
1. Spouse Loan Agreement – ready to sign
2. Law firm's letter of advice. Press the above "Sample" button to see a sample
Contact us for more legal advice
You are building your Spouse Loan Agreement on a law firm's website. Telephone us for legal advice. We can help you answer the questions.
Adjunct Professor, Dr Brett Davies,  CTA, AIAMA, BJuris, LLB, LLM, MBA, SJD
Legal Consolidated Barristers & Solicitors
National Australian law firm
39 Stirling Highway, Nedlands, WA
Mobile:       0477 796 959
Reception: 1800 141 612
Email:         brett@legalconsolidated.com
Skype:        brettkennethdavies

The Borrower is the entity (human or company) who is going to receive the capital (e.g. money) from the lender.


The Lender is the entity (human or company) who is passing the capital (e.g. money) to the Borrower.
In this Loan Agreement, the person who is the Lender is lending the money and the person who is the Borrower is the person borrowing the money.

Why is it better to prepare my legal document on a law firm's website?
You are dealing directly with a law firm's website, therefore you:
retain legal professional privilege,
benefit directly from the law firm's PI insurance
receive legal advice from us.
You are supported by our 100% money back guarantee on every document you build.
How do I build the Loan Agreement?
Answer the questions on our website
Read the Summary page
Lock and Build your document
Type in your Credit Card details
The Loan Agreement, our covering letter and Tax Invoice are emailed to you
Print and sign the Agreement
What do I get?
You will receive an email that contains:
Loan Agreement Document
Our law firm's letter of advice on our law firm's letterhead and signed by one of our Partners.

4
I don't know how much I'm lending.
Sometimes you don't know the amount that you are lending. If you don't know you can leave it as the default answer; "as lent from time to time". This gives you some wiggle room.
If you do know but are paying it in instalments, then put it all in as one figure.
Otherwise, just put in the total figure. Remember to put in the dollar sign.

5
What if I don't have a payment date?
Sometimes you might not want to set a specific date in the agreement. You can leave it as the default answer; "payable on demand as demanded by the Lender". This gives you some wiggle room.
If you want it all paid back on the one date, just enter that date in.
Word it how you like. For example
1) "Payable in instalments of 10% per calendar month"
2) "Half to be paid on 21 September 2018, and the remainder to be paid on 21 September 2019"
3) "$100 to be repaid weekly for 10 weeks starting from 4 July 2018"

6
What do I put in as the interest rate?
There are five ways you can answer this question depending on how you'd like to do it:
1) If you are charging no interest, put the word "Nil"
2) If you aren't sure what the interest rate is yet, leave it as the default, which is "as demanded from the lender from time to time"
3) You can put in a flat rate, for example, "5%" (don't forget to put the % sign in)
4) Keep it variable, for example, "2% above the Commonwealth Bank interest rate".
5) You can also use the inflation rate. You could word it something like "calculated according to the percentage increase in the Consumer Price Index (all groups) for the average of the capital cities of the Commonwealth of Australia (as published from time to time by the Australian Bureau of Statistics or body that takes over that function)".